The Java Virtual Machine
Readers already familiar with the Java Virtual Machine and the Java class file format may want to skip this section and proceed with section 3.
Programs written in the Java language are compiled into a portable binary format called byte code. Every class is represented by a single class file containing class related data and byte code instructions. These files are loaded dynamically into an interpreter (Java Virtual Machine, aka. JVM) and executed.
Figure 1 illustrates the procedure of compiling and executing a Java class: The source file (HelloWorld.java) is compiled into a Java class file (HelloWorld.class), loaded by the byte code interpreter and executed. In order to implement additional features, researchers may want to transform class files (drawn with bold lines) before they get actually executed. This application area is one of the main issues of this article.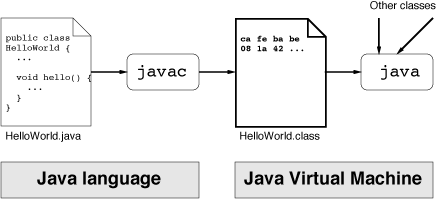 Figure 1: Compilation and execution of Java classes
Note that the use of the general term "Java" implies in fact two meanings: on the one hand, Java as a programming language, on the other hand, the Java Virtual Machine, which is not necessarily targeted by the Java language exclusively, but may be used by other languages as well. We assume the reader to be familiar with the Java language and to have a general understanding of the Virtual Machine.